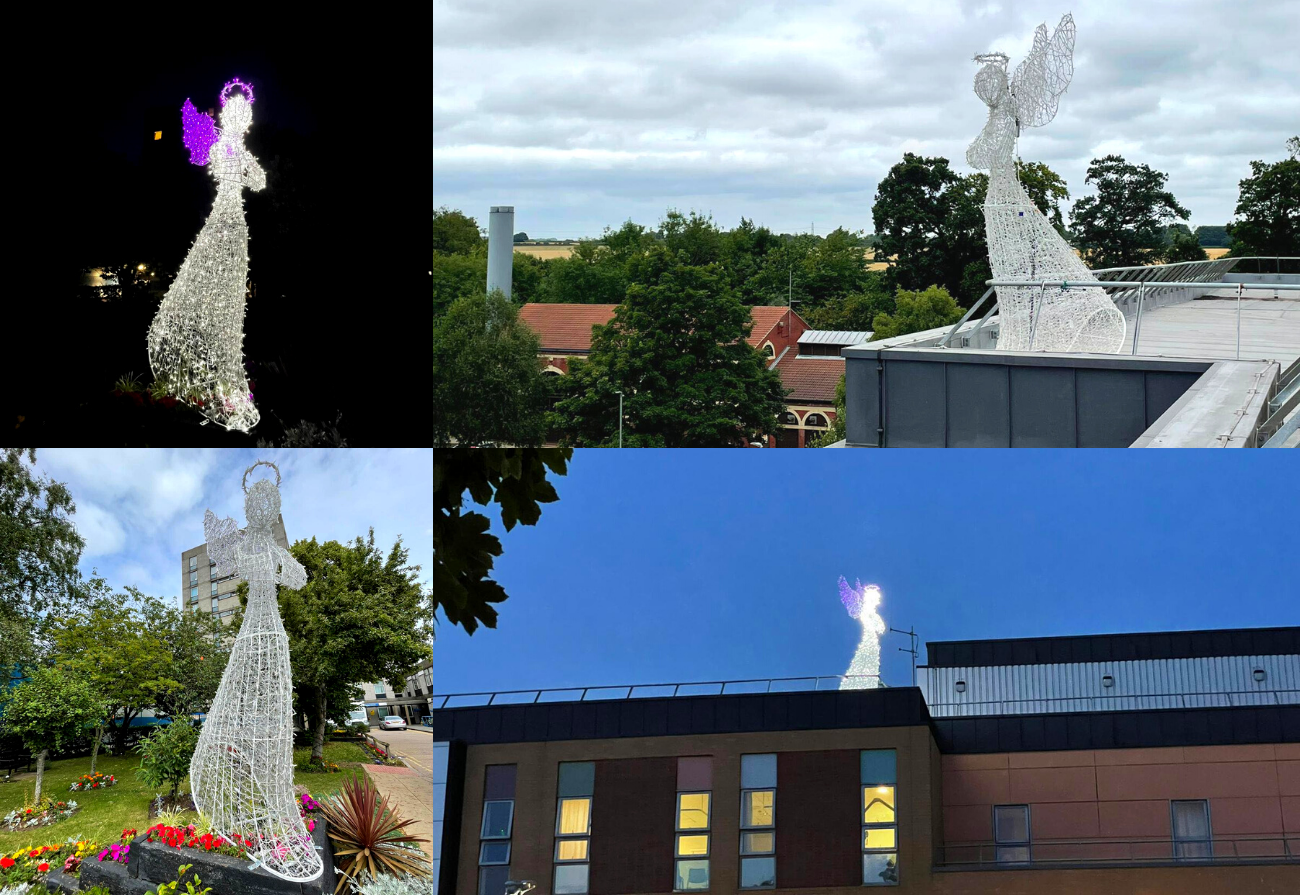 Angels of reflection and hope feature at Hull Hospitals
Hull Hospitals' charity WISHH, along with support from members of our local community, businesses, individuals, community groups and volunteers, have rallied together to support hospital staff, patients and loved ones throughout the pandemic. 
Following a year like no other, we are taking time to pause and reflect on the challenges we have all faced on a personal level; how staff throughout Hull Hospitals have pulled together to ensure the best possible care has been delivered to patients in these challenging times, as nursing teams have held the hands of loved ones in their final hours.
During the pandemic, over 800 people have sadly lost their lives in their fight against coronavirus at Hull Hospitals, including three members of hospital staff. 
With the help of Hull's Christmas Decorators, two twelve-foot angels have been installed within the grounds of Hull Hospitals for a period of two weeks until 6th August; one within the Memorial Garden at Hull Royal Infirmary and the other on the roof of the Cardiology Building at Castle Hill Hospital.
The angels encourage staff, patients and their loved ones to take time to reflect.  They invite onlookers to take a moment to look back over the past sixteen months, marking the resilience of hospital staff and our community throughout the pandemic, to reflect on the loved ones, friends and strangers we have lost to the disease.   We are hoping the angels inspire hope as we move into the next phase with caution as restrictions ease.
Hull Hospitals Chaplain, Tony Brookes said, "Many of us will have been personally affected by the virus or know people who have.  We've seen the devastating effects it can have on patients themselves and families who lose loved ones, and the debilitating effects it can have on others who survive.  We have also lost three much loved and well respected colleagues to the disease; Adrian Cruttenden, Richzeal Albufera and Nicola Diles. It's been a year like no other, a year which none of us could have predicted or would wish to repeat, but one which has shown the true strength, compassion and resilience of hospital staff and our communities.  We hope the angel installation at our hospitals will provide a focus to enable a time for reflection and hope as we cautiously move forward."
Rebecca Walls, of The Christmas Decorators in Hull said, "As a local business we wanted to take the opportunity to show our recognition of the incredible efforts of the NHS staff throughout the pandemic and work with WISHH to give something back to Hull Hospitals and our community.  We thought the installation of some of our Christmas Angels at Hull Hospitals would offer people the opportunity to pause and reflect on the events of the past sixteen months and remember those who have passed away in this time but also to inspire hope for the for the future."