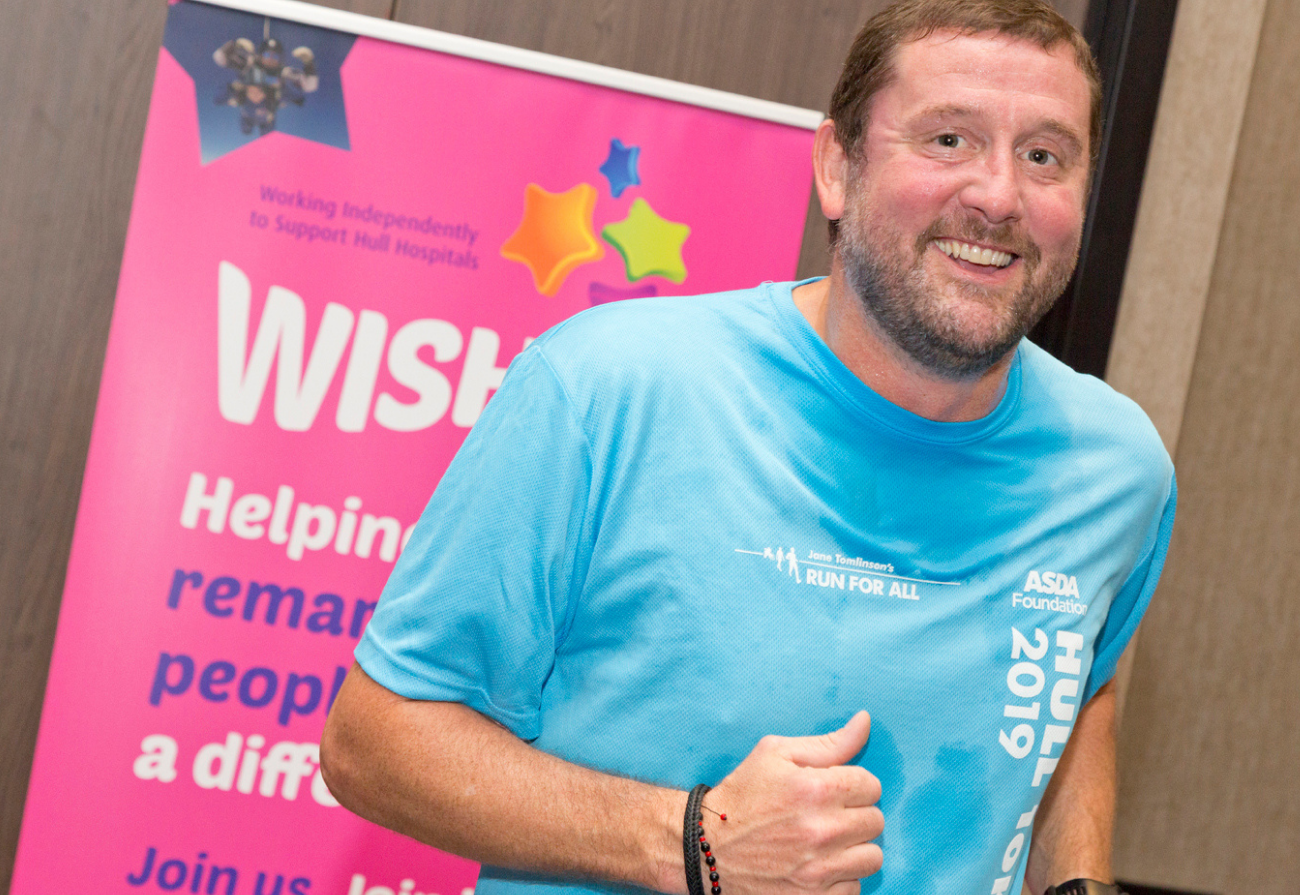 The race is on!
Back in October 2019, a time before any of us heard of coronavirus, Hull Hospitals' official charity WISHH launched a fundraising campaign to create sensory areas in the city's Eye Hospital.  As well as a host of different fundraising activities, hospital executive and WISHH Trustee, Lee Bond, began gearing up to support the campaign by embarking on the challenge of a lifetime; to run the London Marathon. Lee and the WISHH team went full steam ahead until the pandemic hit and then, like most charities, all planned events and activities came to a halt.
WISHH soon changed the approach, diversifying into a range of virtual fundraisers to ensure these important enhancements for young children attending the Eye Hospital could still be delivered.  Collectively, through the generosity of our amazing community and hospital staff, an impressive £13,500 has been raised to date towards the appeal. Now, with the London Marathon rescheduled to take place on 3rd October, it's time for the final push and for Lee to lace up his running shoes once again. 
Back in training, Lee Bond is looking forward to his marathon challenge and is keen to raise the remaining £1,500 needed to reach the fundraising target.
As Chief Finance Officer for Hull University Teaching Hospitals NHS Trust, he knows a thing or two about balancing the books but has less experience when it comes to running a marathon. Following the pandemic, training has restarted and Lee says that having a clear target has given him the focus he needs to be able to complete this world famous race:
"The last sixteen months have been a challenging time for us all. Following the pandemic, I am back in training and while I do exercise a fair bit and I'm used to mountain biking, this is a different level of fitness altogether. I'm managing to run about 13 miles at the moment and I'm optimistic that I've got enough time to get my fitness up to where it needs to be by October.
"Completing the marathon and raising the final £1,500 needed to create the sensory room will make such a big difference to our younger patients with additional needs.  As a trustee for the WISHH charity I've seen in the past how generous local people are and really I'm hopeful they will support WISHH and get behind this campaign."
To support Lee and help make the sensory facilities at the Eye Hospital a reality, visit his fundraising page: rebrand.ly/sensoryhull  
Mr Colin Vize is the Clinical Director for Ophthalmology at Hull University Teaching Hospitals NHS Trust and a surgeon within the Eye Hospital.
"Children are understandably anxious when they come to hospital. When they have additional needs, this anxiety can be more profound so it's important that we can offer them support and stimulation to make them feel at ease. The sensory areas will contain projections, calming music and sensory toys, all of which we know helps them and their parent/carer to relax when they are in hospital and this makes it easy for us to deliver the care they need. We're really grateful to the WISHH charity and especially to Lee for the effort he is making on behalf of our patients. I will certainly be sponsoring him and encouraging others to do the same."
Get involved today and help us make a difference.  Donate by clicking here. Any funds raised above our fundraising target will enable us to add even more sensory features to the Eye Hospital.
How the sensory areas will help transform care for children with additional needs
The funds raised will enable the creation of a number of sensory areas for children with additional needs including Autism, ADHD, ADD, or for children experiencing anxiety or trauma attending the Hull and East Yorkshire Eye Hospital.
Each year, the Eye Hospital cares for 15,000 children, delivering a range of acute, routine and tertiary acute services including consultation, specialised imaging and diagnostics, elective and emergency medical and surgical treatments, follow up care, monitoring of eye conditions and delivery of long term treatment programmes. Creating a sensory room will provide much needed stimulation and help calm and distract children attending the eye clinic, helping to ensure the experience of coming to the hospital is as easy as possible for children with additional needs and their parents/carers. Equipment in the sensory room will include light displays and projections, bubble tubes, wall decorations, sensory toys, music and other features. It will be located in the Paediatric Pod at the Eye Hospital where parents and their children can spend time together prior to surgery and follow up treatment.