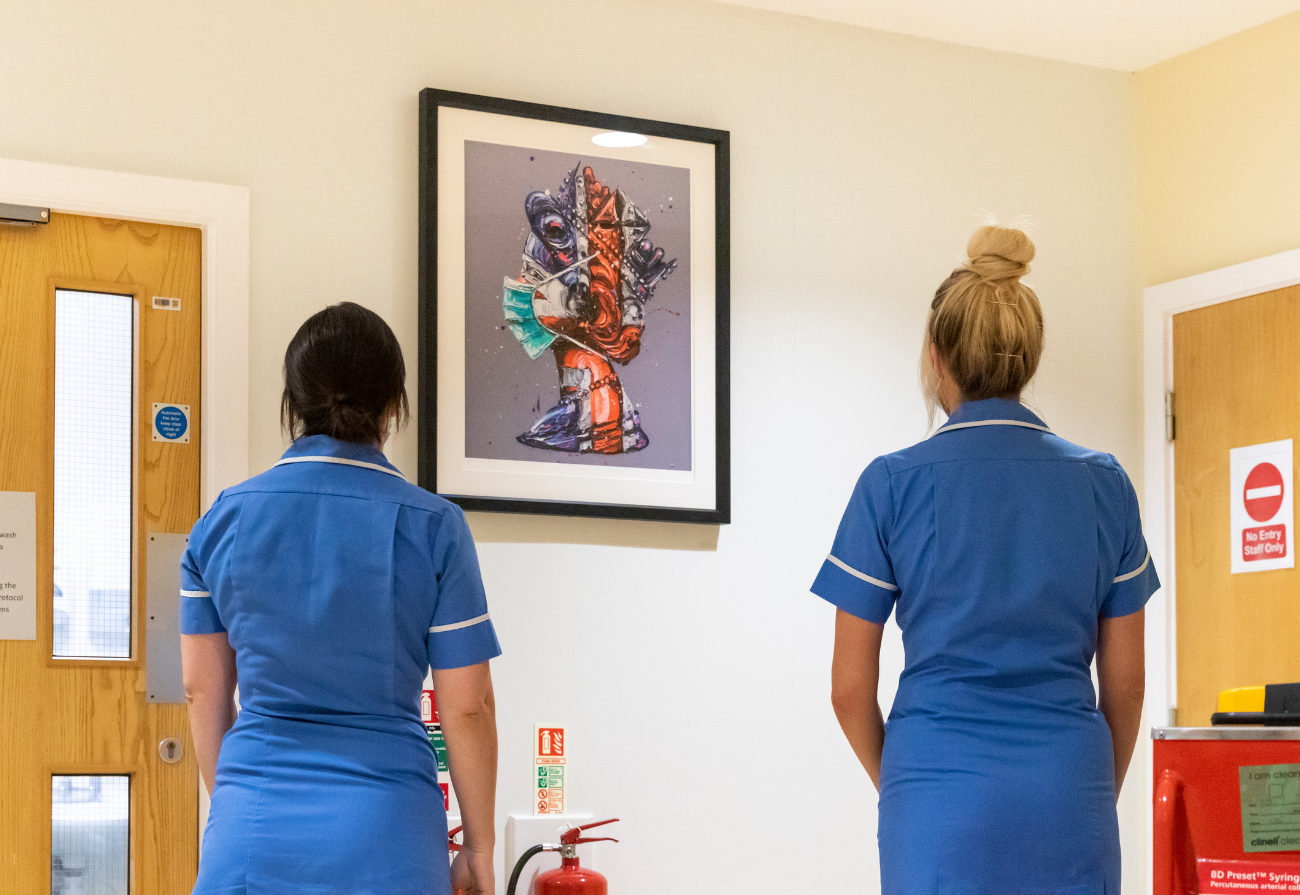 Stunning Paul Oz artworks donated to Castle Hill Hospital and Hull Royal Infirmary
The Artmarket Gallery located in Cottingham, have kindly donated three signed limited edition artworks titled 'Corona-tion Queen', by dynamic artist Paul Oz, to the Centenary Building and Ward 7 Infectious Diseases at Castle Hill Hospital, and also in the Intensive Care Unit at Hull Royal Infirmary as a token of their appreciation to hospital staff for their incredible work caring for Covid-19 patients throughout the pandemic.
The piece was influenced by the Coronavirus and devastating impact it has had on our society, and was painted to raise money to help the NHS. The original oil painting of the PPE adorned Queen was auctioned off to the public with 100% of the £8,250 auction figure raised going directly to the NHS Charities Together of which Hull Hospitals' Charity WISHH, is a member.  The artwork was displayed in the Artmarket Gallery until carefully packed and shipped to the highest bidder. The 'Corona-tion Queen' became an instant hit with gallery customers and was often admired through the gallery windows from passers-by.
Paul Oz posted on his Instagram to say how he 'felt helpless in the current situation' and was 'in awe at our hero's on the front line of the NHS battling to save lives'. Therefore used his talent to create the 'Corona-tion Queen'. 
The installation of these striking artworks is part of the Hull University Teaching Hospitals' Arts Programme, Flourish, which recognises that the arts and creative approaches throughout our hospitals can keep people well, aid recovery, and help meet major challenges such as ageing, long-term conditions, loneliness and mental health.
Director David Haire, who leads on Flourish, our Hospitals' Arts Programme, said: "We are delighted to welcome these artworks which uniquely pay tribute to our staff and all NHS workers during the Coronavirus epidemic.  Powerful creative images like this can speak a thousand words, and these prints speak, not just for the artist, but also for so many local patients and families whose lives have been touched by Covid-19 over this past year.
Our Flourish Hospital Arts Programme harnesses the special power of arts and creativity to improve our hospital places and spaces; uplift patients, visitors and staff; and bring new innovations to clinical practices. These two new artworks add a new dimension to our ongoing programme and specialist collection of artworks." 
British artist Paul Oz has previously released a range of Queen Elizabeth inspired artworks that over the years have been incredibly popular with his collectors. Showcasing his artwork at the Artmarket Gallery, Oz painted the Coronavirus inspired artwork to launch at the Artmarket Gallery's event in March 2020. 
Michelle Power, Artmarket Gallery Director said: "We are so pleased that we are able to donate these incredible pieces of artwork from Paul Oz to two local hospitals in thanks for all of their hard work throughout the pandemic. We hope they will bring a smile to the key workers faces and remind them that even though we have had a challenging few months their perseverance and determination has been highly appreciated. We wanted to say a huge thank you to all the NHS staff so we do hope that our donation adds a little brightness to the hospital wards".