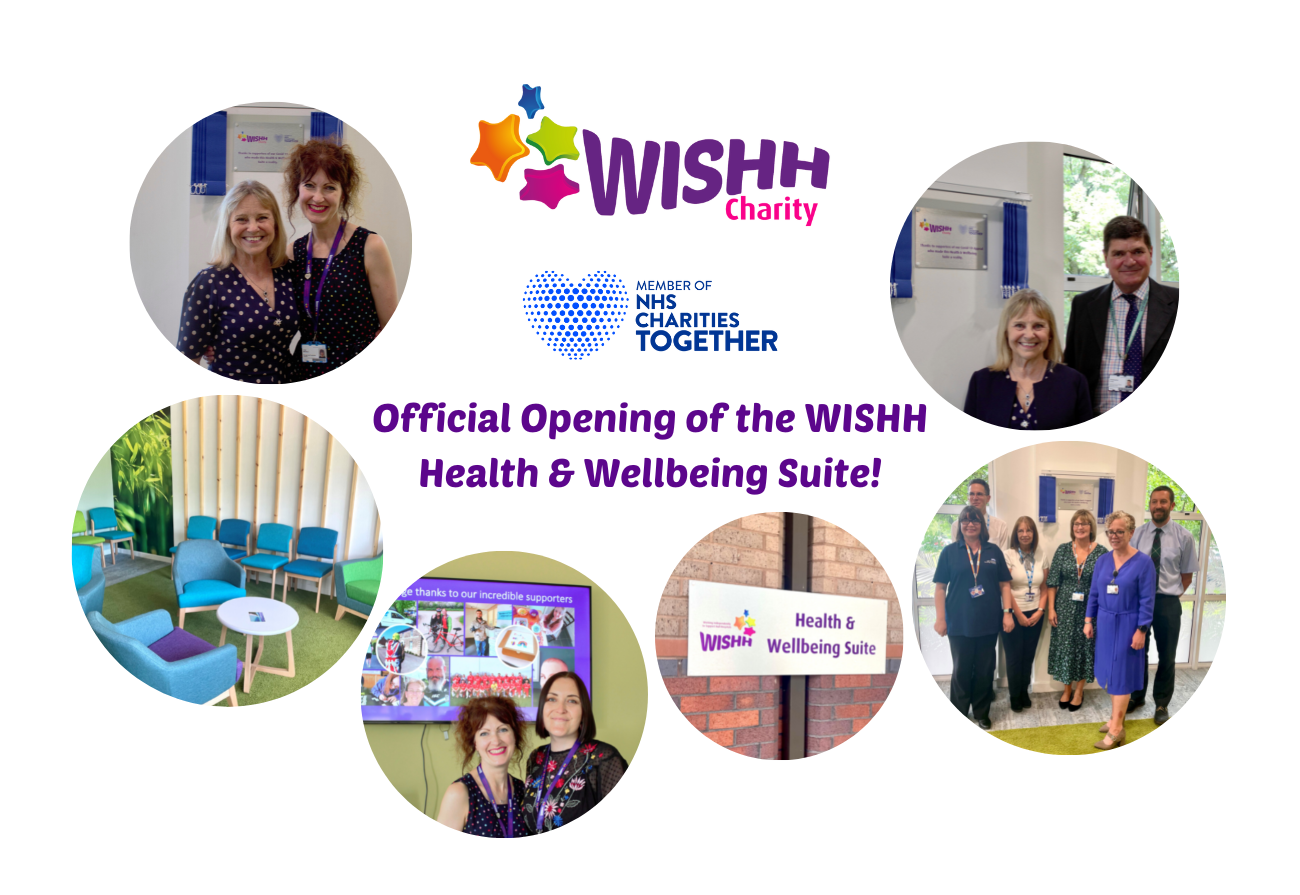 WISHH Health and Wellbeing Suite Officially opens at Castle Hill Hospital
We're delighted to share that the WISHH Health and Wellbeing Suite has been officially opened at Castle Hill Hospital on Wednesday 29th June.
The £150,000 suite has been created as a safe haven for staff to relax and recharge their batteries.
Chair of WISHH Sue Lockwood and Trust Chief Executive Chris Long performed the official opening at a special event with WISHH trustees and staff connected with Up! – the trust's programme to support staff's health and happiness at work.
Simon Nearney, Director of Workforce and Organisational Development, said: "The support we were receiving from WISHH was already fantastic but the new WISHH Health and Wellbeing Suite takes it to a whole new level.
"It is a wonderful facility and a real asset which our staff can use for their downtime. It's a beautifully designed and decorated space, somewhere people can come for quiet contemplation or to take part in our fun activities.
"WISHH was standing shoulder-to-shoulder with us from before the pandemic began but has remained by our sides as we continue to deal with Covid-19 and all the associated pressures. We can't thank them enough for their unending support and all they have done for each and every one of us."
Sue Lockwood, Chair of the WISHH Charity, said: "Thankyou to everyone who responded so generously to the WISHH Covid-19 Appeal launched at the very start of the pandemic to support hospital staff. Without your tremendous generosity creating this much needed facility would not have been possible.  The opening of this Health and Wellbeing Suite, designed through close working with the users means that the financial support from our community throughout the pandemic has been translated into a lasting thank you to NHS staff."
WISHH's Covid-19 Appeal, supported by the public, businesses, Hull Live's Helping Hull Hospitals Heroes appeal and charities in Hull and the East Riding, raised a staggering £78,000 for the suite as one of its long-term legacy projects to support staff at Hull. WISHH were also successful for securing funds from NHS Charities Together, the charity supported by the late Captain Sir Tom Moore, receiving £72,000 to make the suite a reality.
The suite, next to Nightingales Restaurant, has two large rooms, separated by a foldable partition to create one larger space. It has two showers for staff to get washed and changed after cycling or running to work or taking part in our trust activities.
It also has a bank of key-operated lockers for staff to keep items like cycling helmets or running shoes.
The suite has a dedicated focus on staff health and wellbeing so the rooms will be used for that purpose by staff. Bookings will be controlled by the Organisational Development team to uphold the centre's founding principles.
Lucy Vere, Head of Learning and Organisational Development, spearheads the staff support programme, helping staff who may be struggling to cope with the ongoing pandemic and daily pressures they face.
She said: "We now have a safe accessible space where individuals and teams can get away from their busy working environments.
"With comfortable seating alongside wellbeing resources, this suite is a dedicated and beautiful environment to provide staff support services such as one-to-one counselling and wellbeing sessions, all in a purpose-built space."
Staff have already been taking part in Up! activities in and around the suite ahead of the official launch, from travel planning to help staff bike to and from work to yoga, woodwork and Sound Baths for staff groups. It is also the meeting point for the Wednesday Walkers each Wednesday lunchtime at noon and the Bike Users' Group, held on the second Wednesday of every month.
Education and Development Advisor Ben Greenwood, a keen cyclist who is also one of the Wednesday Walkers, said: "The new suite looks fabulous and will be a great place to meet new people, take part in the Up! activities and also have some space with your thoughts."

WISHH are exploring possibility of creating a second WISHH Health and Wellbeing Suite at Hull Royal Infirmary in the future.