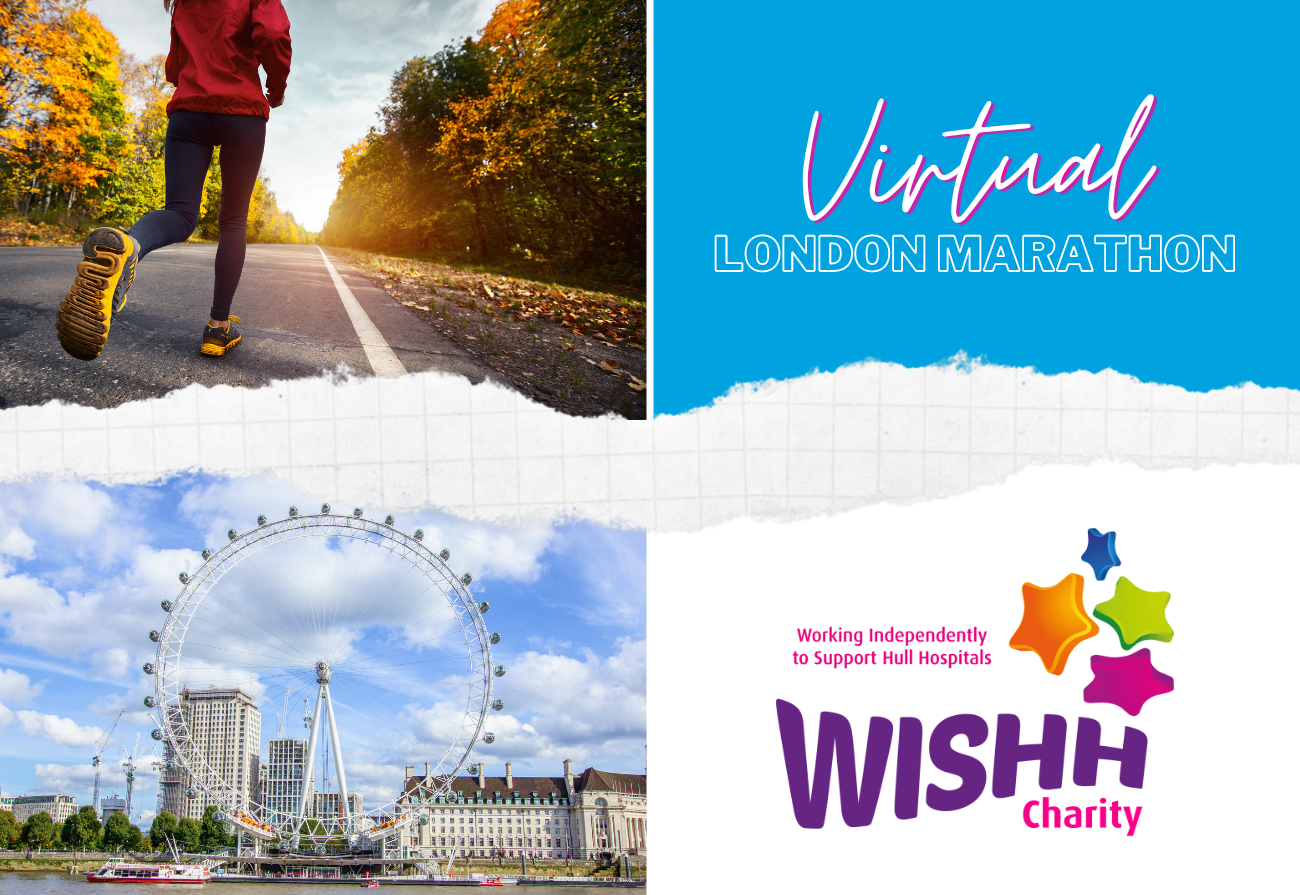 Hospital staff boost health and wellbeing of colleagues through Virtual London Marathon
Hull Hospital's staff from a wide range of departments across Hull Royal Infirmary and Castle Hill Hospital including systems development, cardiothoracic theatres, upper gastroenterology, cardiology research, complex rehabilitation, colorectal and biomedical science have spent months in training ahead of the Virtual London Marathon taking place this Sunday, 2nd October as part of #TeamWISHH.
Staff have been busy planning their own routes which they will be completing in their own time and pace over a period of 24 hours.  The funds raised will help staff support colleagues' health and wellbeing and also support activities through the Trust's UP! programme which promotes health and happiness at work. 
WISHH, the official charity of Hull Hospital's, raises funds to enhance equipment, facilities and services beyond NHS budgets for the benefit of patients, their loved ones visitors and staff.  WISHH also recognises the importance of staff health and wellbeing to delivery of great patient care, and funds a number of initiatives focussed on staff wellbeing and support; the most recent of these being the new WISHH Health and Wellbeing Suite at Castle Hill Hospital opened in June.
The Virtual London Marathon #TeamWISHH is made up of 12 participants, who are really looking forward to their Challenge.
Dave Braithwate, from systems development said, "As a run leader for the trust, I was planning on taking part in the Virtual London Marathon last year along with other HUTH runners but when I was diagnosed with cancer in my kidney I had to cancel; following surgery and time for recuperation, plus the loss of over two stone, I am now ready to take part in the marathon and will be running with a friend on the day".
Liz Phillips, from the supplies team said, "I set myself a challenge every year and have taken part in a bike sportive, cycling 45 miles in one go; when WISHH put out the call to get involved, I jumped at the chance. With the help of my family and running friends, I have been putting in the extra miles in to get ready for the BIG day, raising funds for my work charity just makes it better."
Laura Worrall, from colorectal and upper gastroenterology said, "I impulsively decided to sign up for the Virtual London Marathon to give myself a challenge and support the WISHH Charity. I wanted to motivate myself to get out and do more for my own mental wellbeing whilst raising money for a good cause. As a Mum of two wonderful children, I never get to do anything just for me and I want to feel I have accomplished something for myself and really get out of my comfort zone. This is the first time I have raised money and would love to be part of helping support my colleagues.  This is the first time I have been involved in fundraising and from donations gratefully received has given me more determination to complete this challenge."
Samuel Foulds, from Ward 10, Hull Royal Infirmary "My inspiration for doing the marathon came from wanting to put myself to the test. I've always wanted to take part in a marathon, since I was very young, but the opportunity to tick off one of those bucket list things, whilst raising money for an excellent cause was a no brainer! WISHH is a great charity and I'm thrilled to be a part of the team!"
To support our Virtual London Marathon Team visit: https://www.justgiving.com/campaign/WISHHVirtualLondonMarathon Just Giving Page and state '#TeamWISHH Virtual London Marathon'. Donations can also be made via cheque made payable to WISHH Charity, posted to #TeamWISHH (VLM), WISHH Office, First Floor Administration Building, Castle Hill Hospital, Castle Road, Cottingham, HU16 5JQ.  Donations can also be made via Bacs transfer, contact the WISHH team for further information hyp-tr.hellowishh@nhs.net or call us on 01482 622299.