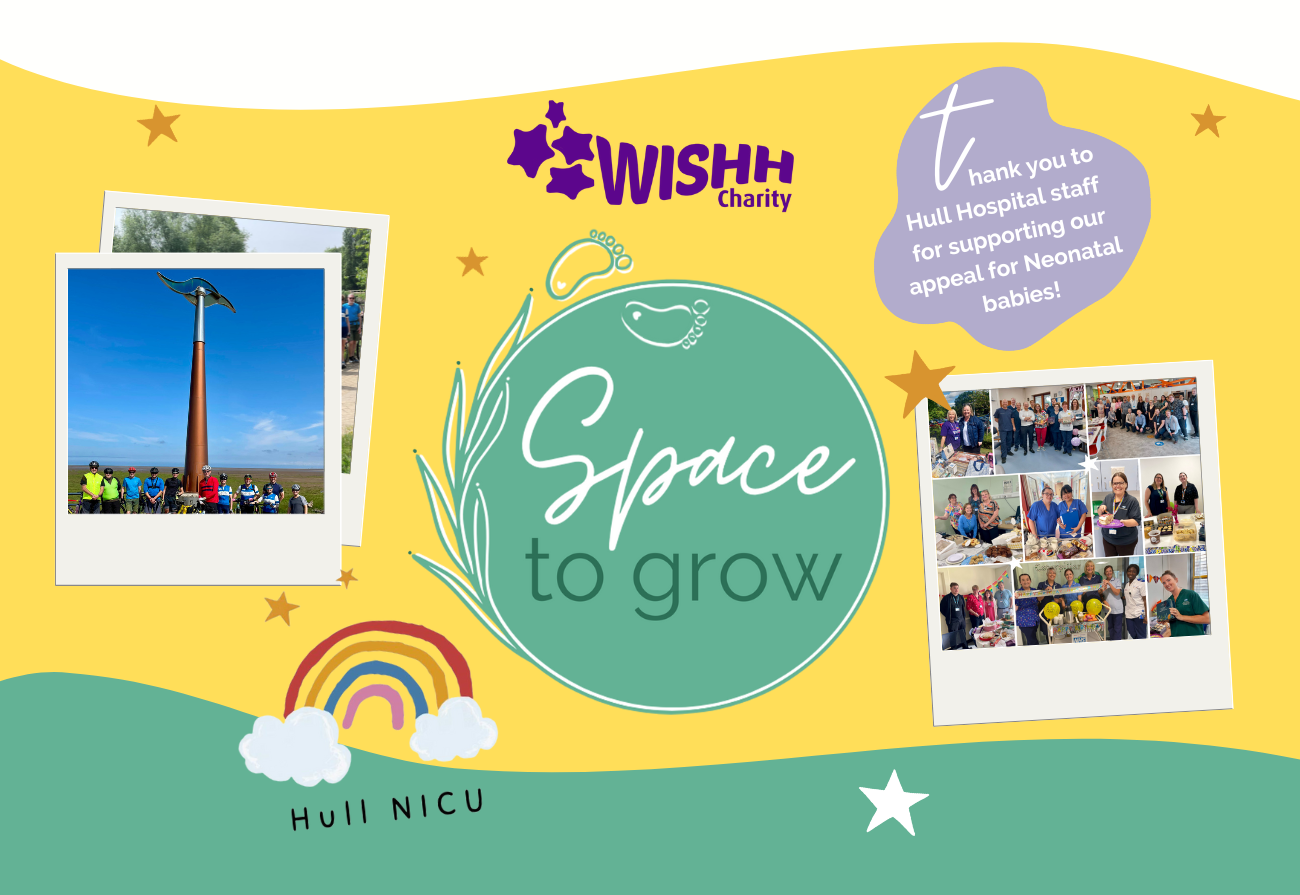 Hull Hospitals' staff support WISHH Space to Grow Appeal raising £4,500, from cycling to cake!
Caring staff from across Hull Hospitals have come together to raise over £4,500 towards the WISHH Charity's Space to Grow Appeal, to support Hull's Neonatal Intensive Care Unit at Hull Royal Infirmary.
A team of thirteen cyclists from all corners of the hospital, including members of staff from Estates, Theatres, Oncology, IT Systems, Anaesthetics, Transport, and Support Services, took part in an epic four day 350 kilometre cycle from Southport to Hornsea.
Starting with a minibus journey from Castle Hill Hospital to Southport, the journey took them the 88km from Southport to Sale (day 1), Sale to Barnsley (87km, day 2), Barnsley to Selby (85km, day 3) and then from Selby to Hornsea and home, to round off the trip (94km, day 4).
There were plenty of hills littered throughout the route which took the cyclists along a mixture of roads, gravel tracks, river and canal paths as they followed the old, disused railway line.
Perioperative Support Worker, Richard Northage, felt compelled to support the Space to Grow appeal after a close colleague sadly found themselves in need of both medical and emotional support from the NICU team. Richard and his colleagues set out to raise £500 but have smashed that figure by raising in excess of £1,200. The fundraising page is still open for anyone who would like to show their support Richard Northage is fundraising for WISHH (justgiving.com)
Hospital staff celebrate 75 years of the NHS to support appeal
Helping mark 75 wonderful years of the NHS, WISHH encouraged staff across Hull Hospitals to hold their own WISHH NHS Big Tea parties, with a little help from WISHH's good friends at Cartwright and Butler, who kindly provided treats for staff as part of a party planning kit. Over 60 wards and departments across Hull Royal Infirmary and Castle Hill Hospital took part in celebrations, raising over £3,500 towards the Space to Grow appeal, and making this one of WISHH's best NHS Big Tea celebrations to date!
The Space to Grow Appeal, launched by WISHH in June, will raise £100,000 to support the enhancement of Hull's Neonatal intensive Care Unit (NICU), based at Hull Royal Infirmary. Funds raised will enable WISHH to create a Sensory Room, develop a siblings play area, create a family 'Haven' to discuss sensitive issues regarding their premature baby's care, and to develop a specialist staff learning facility.
The appeal builds upon the Hull University Teaching Hospital Trust's expansion of Hull NICU by an additional five cots. Hull NICU provides care for over 500 babies each year. Some stay for hours or days, whilst others stay for weeks and months. The unit cares for babies from 22 weeks gestation up to 49 completed weeks. 
Lisa Whitton, WISHH Charity Manager said, "With a heartfelt thanks to the wonderful staff across Hull Hospitals and members of our community, we have now raised just over £42,800 towards our appeal. Each and every day we see hospital staff go above and beyond the call of duty, delivering great care, and then to become personally involved in helping us towards our fundraising appeal, they are a sheer inspiration. We cannot thank everyone enough who have been involved in the appeal to date for their fantastic support."  
If you would like to support our Space to Grow Appeal, as a fundraiser, local business or community group, we would love to hear from you.  Please contact Lisa Whitton on 01482 622299, email lisa.whitton3@nhs.net or visit our Space to Grow Appeal page to find our more.