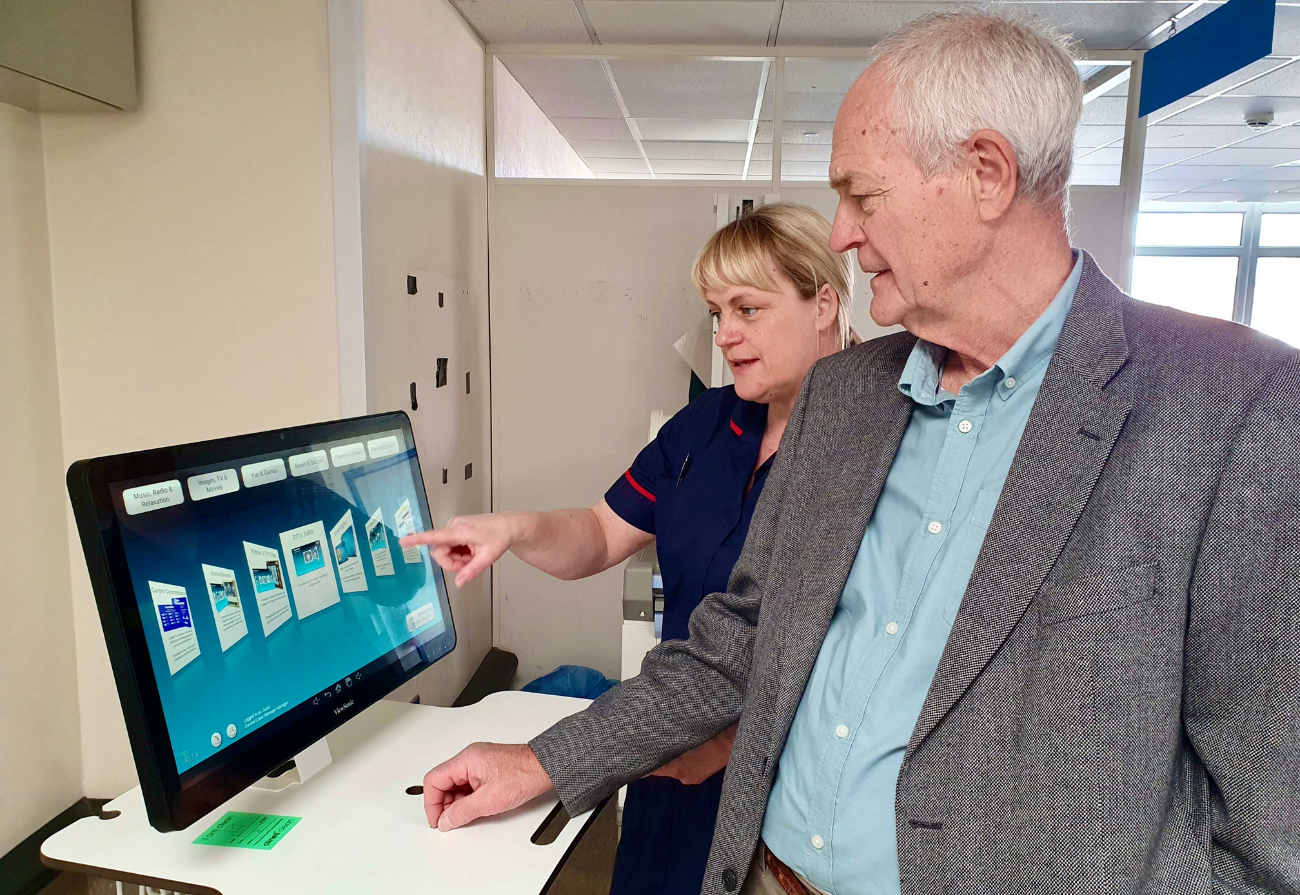 WISHH supports the introduction of RITA at Hull Hospitals
RITA, a new computer-based activity system is helping to improve safety and provide more tailored care to scores of patients across our hospitals.
WISHH worked alongside the Hull Old Grammarians Masonic Lodge and the Pears Foundation (#IWill Fund) to invest in RITA – also known as Reminiscence Interactive Therapy Activity – and introduce the £14,000 system to wards across Hull Royal Infirmary and Castle Hill Hospital.
"Full sized RITA" is a trolley-mounted system which can be moved around and used with multiple patients to promote group activities, stimulate conversation, encourage hand-eye coordination, and engage patients in reminiscence therapy. "Baby RITA" is a tablet-based version which is more suited to one-to-one activity, and can be particularly useful if a patient is bedbound, withdrawn or, on the contrary, presents behaviours that may be challenging.
Karen Harrison, Lead Matron for Dementia and Delirium for Hull University Teaching Hospitals NHS Trust explains:
"There are two full sized RITAs in use at the moment, one on Ward 80 at Hull Royal Infirmary and another on Ward 20 at Castle Hill Hospital. Both of these wards are caring for patients who are ready to be discharged home but are still awaiting packages of care or other arrangements to be put in place before they can safely leave hospital.
"Spending time in hospital can be difficult for anyone, but for older people, some of who may have dementia or other cognitive difficulties, the days can be very long and they can also find it confusing or frightening. What's been great is to see how the Sisters on both wards 20 and 80 have embraced RITA and now use it as a tool to promote positive interaction between ward patients, and to help build trust and rapport between patients, staff and volunteers."
RITA comes pre-loaded with a wide range of entertainment shows and programmes, puzzles, activities and games to help maintain cognitive function, support social interaction and aid reminiscence. From old Western films and radio programmes voiced by Kenneth Williams through to electronic jigsaws based on family photos and games of pig racing or whack-a-mole, RITA offers something for everyone. But it's not just there to pass the time either.
"There's lots of research to show that RITA helps to reduce falls among older people as it engages those who have a tendency to want to get up and wander in alternative activities," Karen continues.
"Instead of walking around the ward, we can encourage a patient to sit with us and use Baby RITA on a one-to-one basis, perhaps finding an old radio station they might like to listen to, or getting to know more about a patient through a TV programme they watched as a child. RITA also has easy to follow chair exercises that we use to promote physical movement to prevent deconditioning which can help to reduce falls and pressure ulcers.
"RITA also helps to improve nutrition and hydration in our patients as the stimulus helps keep the natural wake/sleep cycle and the activities can improve a person's appetite. Patients become more aware of their environment, participate in conversation and more willing to engage with staff during mealtimes."
RITA is easy to operate, and is being used by a wide range of nursing and therapies staff on the wards, as well as by the Trust's growing army of young volunteers, who give their time to support older people with dementia across both hospital sites, encouraging interaction and activity.
Michelle Robertson is the Sister on Ward 20 at Castle Hill Hospital, and has been regularly getting her patients together with RITA for a day at the races. She explains:
"One of the RITA activities which has been particularly popular on C20 and proven really successful in bringing people of out their shells is the horse racing.
"We always have patients on the ward who either enjoy a little flutter, who used to go to the races when they were younger or still enjoy watching it on TV now, so we started getting patients together, once a week, to host our own race afternoon.
"We've made mock betting slips so patients can try and pick the winners, and there's a real air of excitement and anticipation in the day room when we show each race. Even if patients don't take part, often just listening to the commentary can help take them back to a certain time or place in their lives and bring back fond memories.
"No money changes hands on our race days, of course, but on days like these, RITA really is priceless. The technology allows us to support patients' needs on a more personal level, rather than just addressing their clinical care, and more social interaction can really help to boost patients' sense of wellbeing and even promote faster recovery."
Geoff Branton, Charity Steward for the Hull Old Grammarians Lodge says:
"The Hull Old Grammarians Freemason's Lodge, together with the Freemasons Charity for Yorkshire North & East Ridings, is proud to support the introduction of RITA.
"Working with the WISHH charity is exactly the type of initiative to which we like to offer help, on the basis that people from the Hull and East Riding areas will, ultimately, be the beneficiaries. The feedback from the staff is very positive and we have been delighted to be involved."
Bridget Kohner, Deputy Director at The Pears Foundation says:
"RITA has clear benefits for hospital patients from a clinical, personal and social perspective. Helping to engage members of the local community in enjoyable, meaningful activities with others very much aligns with the ethos of the Pears Foundation, and for this reason we're happy to have been able to lend our support."
Abby Wardill, Administration Officer at WISHH says:
"Thank you to the Hull Old Grammarians Freemason's Lodge and The Pears Foundation for their generous support of RITA. The difference the systems have made to patients at the hospitals is huge and we're thrilled to have made this a reality thanks to the help of your incredible donations."
If you would like to support Hull Hospitals, or a particular ward or department across Hull Royal Infirmary and Castle Hill Hospital, please email us at hyp-tr.hellowishh@nhs.net or call us on 01482 622299.