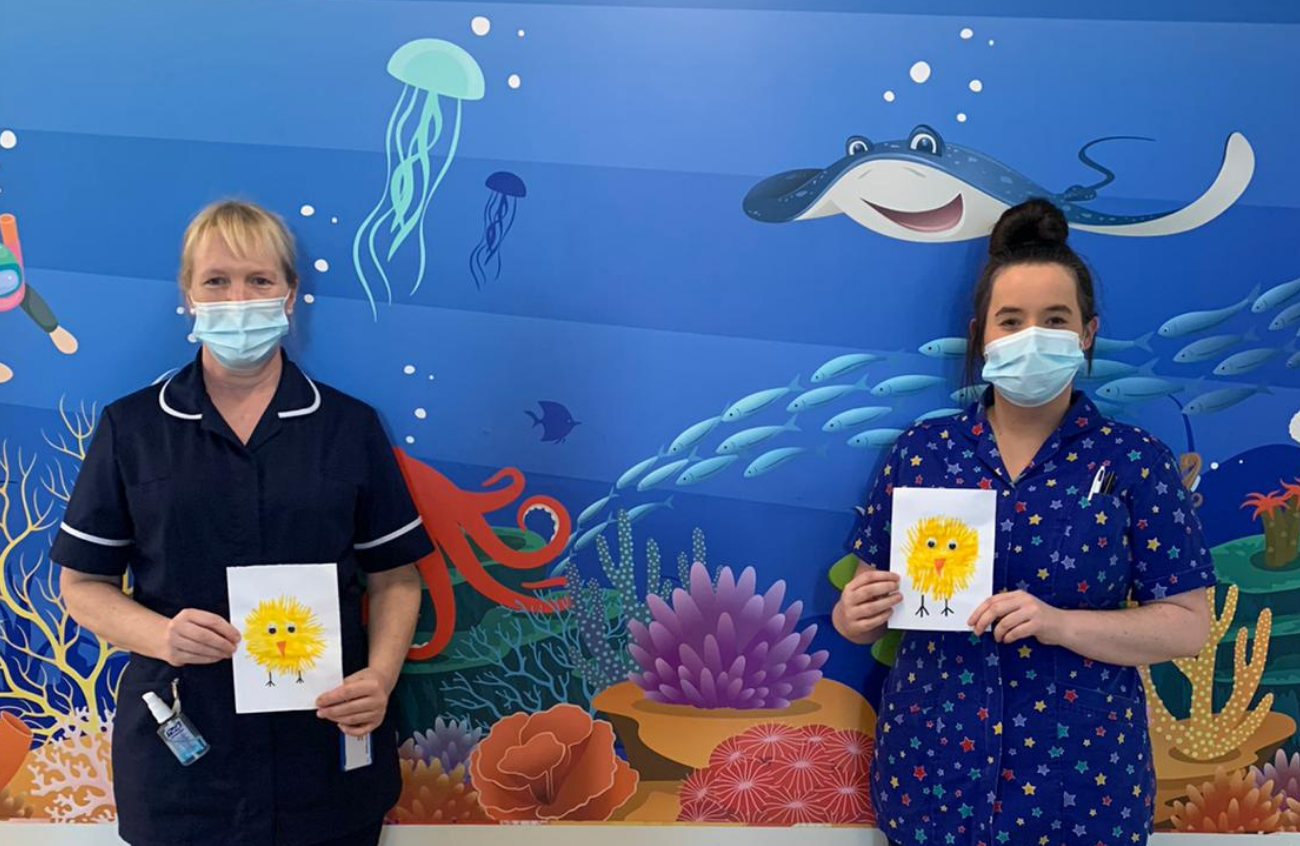 Children's nurses egg-stend their support for WISHH Charity's Easter Appeal
Children's nurses in Hull are asking kind-hearted donors to swap chocolate eggs for arts and crafts this Easter in a special charity appeal.
Every year, the children's wards at Hull Royal Infirmary would normally be inundated with offers of chocolate treats for youngsters spending time in hospital. But now Helen Lyon, junior sister on Ward 130, is among those asking kind-hearted donors to support the hospital's WISHH Charity with a financial donation instead of Easter eggs, to enable the generosity to go further and wider. 
Helen says: "Members of our local community tend to provide Easter eggs for children in hospital every year, but as Covid-19 still poses a very real risk to our patients, we are kindly asking donors and community groups to raise money for the WISHH Charity Easter Appeal instead of delivering chocolates.
"Not only will this ensure the Covid-19 risk to our staff, patients and visitors alike is reduced, but crucially it will enable us to buy arts and craft materials, activities, toys and games for the wards which can be enjoyed by many more children over the weeks and months to come.
"We know people love to collect eggs and we're always grateful for this, but at the same time, we hope people will also understand that safety has to be our number one priority. Donating funds to the WISHH Charity Easter Appeal is a great way of ensuring young people still benefit from the kindness of the local community, but in a way which is healthy, safe for all, and likely to benefit a greater number of children."
'The WISHH Charity Easter Appeal' provides plenty of ideas for ways in which individuals and community groups can get involved and raise money to generate some Easter- themed cheer. The charity's website plays host to a range of creative ideas for socially distanced fundraising and activities at home, enabling everyone to continue meeting government guidance around Covid safety.  Fundraising ideas include taking part in bunny hops, crafting, baking, donning Easter attire, and running Easter themed fundraisers safely in schools and workplaces. 
Lisa Whitton, WISHH Charity Manager said: "Covid-19 still continues to impact everyone's lives.  Our top priority as Hull Hospitals' official charity, is to keep patients safe, but at this time of year we understand that people love to be able to bring a bit of sunshine to children spending time in hospital too.
"We are already receiving calls from members of the public and community groups, asking how they can support children this Easter. Working with the staff on our children's wards, we know we can benefit so many more young people by using funds raised through the WISHH Easter Appeal to purchase items that will keep youngsters occupied, entertained and showing their creativity.
"We look forward to sharing our Easter ideas to inspire our community to brighten the lives of patients at Hull Hospitals."
Funds raised will enable the hospitals to purchase 'Covid safe gifts' for children of all ages from babies, toddlers, primary and secondary aged young people who will be staying on our wards over the Easter holiday period. Such support will also make a difference to patients being looked after in the Children's Emergency Department, Eye Hospital, Anlaby Suite and other specialist areas.  Any additional funds will be used to support patients across our hospitals throughout the year.
This is how your donations could help make a difference:
* £5 will provide an Easter themed activity/colouring book and pencils
* £10 will provide an older child or teenager with a toiletries gift set
* £12.50 will provide a patient with a toy such as mystery eggs or board games
* £15 will provide a teddy bear for a vulnerable child who undergoes medical examination within the hospital
* £20 will fund an Art/Crafts Bag – A take-home gift to encourage activities post discharge
* £40 will provide video games to keep patients occupied on the wards
* £100 – £500 will provide sensory items for our Eye Hospital for example bubble tubes and sensory boards
* £250+ will provide an Easter Bunny's basket of games and gifts for children on wards
* £1,000+ will enhance playroom learning toys the wards for patients now and in future years.
Donations and fundraisers can be set up online via the dedicated Just Giving page. One-off online donations can also be made this way.  Donations to the appeal can also be made by sending a cheque made payable to "WISHH Charity", and posted to WISHH Charity – Easter Appeal, First Floor Administration Block, Castle Hill Hospital, Castle Road, Cottingham, HU16 5JQ. Writing on the back "Easter Appeal".
Businesses which would like to support this appeal, please get in touch with Lisa Whitton on 01482 622299/07827 881766 or email hyp-tr.hellowishh@nhs.net